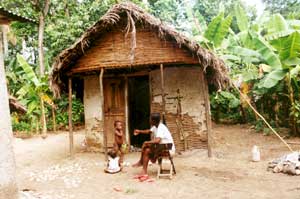 1492: Christopher Columbus discovered the Island of Haiti. The population, estimated at one million, lived there off fishing and hunting.
1804 (January 1st): Proclamation of Independence
1844: The Dominican Republic declares its independence from Haiti
1915: Haiti comes under the military occupation of the United States of America
1934: The United States occupation of Haiti ends and the U.S. Marines leave Haiti
1957: Dr. Francois Duvalier is elected President for Life.
1971: Jean- Claude Duvalier succeeds his father as President for Life.
1986: Jean Claude Duvalier flees Haiti for Talloires in France
1990: Jean Bertrand Aristide, a Catholic Priest, wins the presidential election with a majority vote.
1991: A military coup against Jean-Bertrand Aristide drives him out of Haiti. A commercial embargo against Haiti is approved by the thirty-four nations of the Organization of American States.
1993: The U.S. military intervention into Haiti.
1994: President Aristide returns to his presidential office in Haiti
1996: René Preval is elected President of Haiti
2001: Jean-Bertrand Aristide returned to power (7 February 2001 - 29 February 2004)
2004: Boniface Alexandre (provisional) replaces Aristide (29 February 2004 - 14 May 2006)
2006: René Preval returned to power (14 May 2006 - Present)
2010: Magnitude 7.3 Quake Devastates Haiti