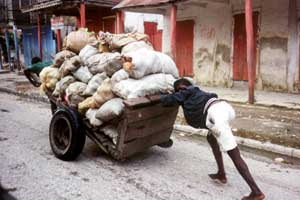 Fast Facts On Haiti:
Location: 750 miles south off the coast of Florida in the Caribbean Sea, sharing the Island of Hispaniola with the Dominican Republic.
Size: Comparable with the state of Maryland
Population: 7.5 million
Government: Democratic
Religion: Roman Catholic is the official national religion; Voodoo is the non-official national religion.
Literacy: over 60% of adults over the age of 15 cannot read or write.
Average Annual Income Per Family: $250 per year (Haiti is the poorest country in the western hemisphere).